Welcome to Burringbar Rainforest Nursery!
One of the largest rainforest / native nurseries in Australia.
Prices from only $2!

Subtropical Coastal Plants
Our range extends to many different types
of plants in tropical and sub-tropical regions.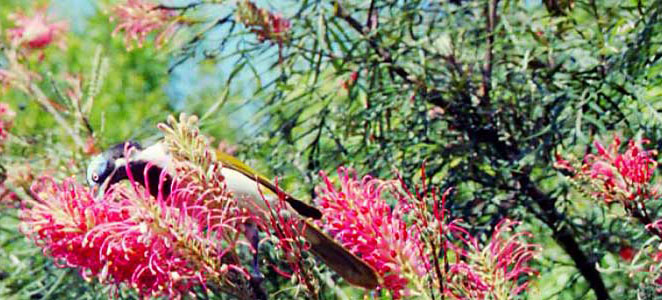 Plants for Wildlife
Huge range of smaller plants
for your home gardens to provide
shelter for birds, butterflies and other fauna.

Bush Tucker Plants
We also stock Australian Bush Tucker plants
to liven your palate such as Davidson's Plum,
Aniseed Myrtle, Black Apple, Atherton Oak, Lemon Myrtle.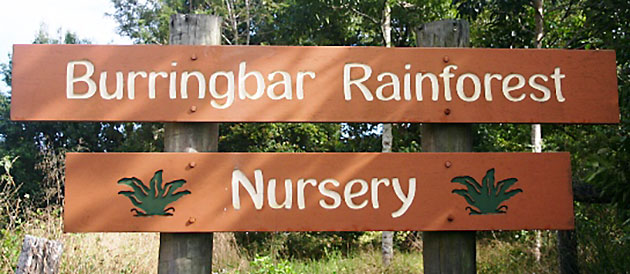 Burringbar Rainforest Nursery
The Burringbar Rainforest Nursery specialises in Australian native plants, in particular those species found in South East Queensland and Northern NSW. We have one of the largest range of of native nursery plants available in Australia. Burringbar Rainforest Nursery plants are displayed with common and Latin names and  with informative plant descriptions.
Our plant list is quite extensive and at all times we carry a range of:
Rainforest trees
Shrubs & Understorey plants
Palms, Cycads and Ferns
Sclerophyll plants including: Eucalypts, Wattles, Grevilleas, Callistemons, Westringias and Banksias
Grasses & Sedges
The nursery has extended its range to include a wide variety of fruit trees , vines and berries.
We also stock a small range of gardening accessories such as: Rocky Point potting mixes and manures & mulches for vege gardens, Books, Bamboo and Hardwood stakes, Tree guards, Mulch mats, and Fertiliser tablets for native plants.
Surrounding the nursery we have an acre of Botanic gardens for your enjoyment and education. As you stroll the botanical gardens you will see that many of the plants in the garden have signage depicting their species name so you can see the plants in a "garden" type layout while making a list to give to the Nursery.
Our nursery stock list is representative of what we grow. Availability of stock does vary from month to month depending on seeds collected, propagation successes and sales.
Our opening hours are
Mon - Fri : 9am - 4pm
Sat & Sun : 9am - 2pm
We are closed on Public Holidays. 
If you are looking for a plant we don't appear to have, our experienced staff can either recommend a great substitute plant, or we can almost always find it for you from one of our suppliers. Just ask as we are only too happy to help.
Browse our seasonal range of Australian native plants, one of the largest in Australia.